CRYO TANK CONTROL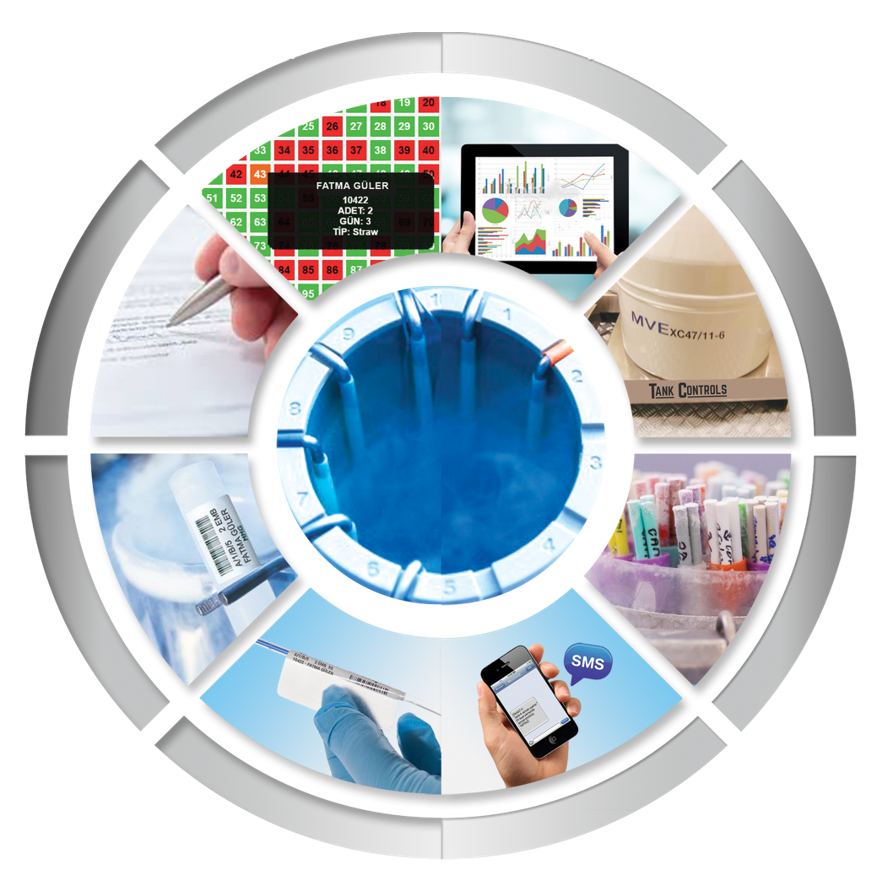 It is a tank management system that can fully manage the tank capacity, provide management with 2D mapping (it can be mapped in line with all types of tanks), print Cryo labels automatically and inform the clinic and the patients by performing time tracking for the freezing procedure.
Tank control is used for the management of tanks where frozen oocyte, embryo and sperm samples are kept in IVF clinics. There are labels and RFID chip labels that are suitable for all straw and vial brands-models that can be found on the market. You can use your tank with maximum efficiency (capacity) thanks to Tank Control. In addition, it can preserve the samples in your tank securely and prevent mistakes by checking the patient information in thawing procedures. Our cryo RFID chips and cryo labels can resist to -196°C.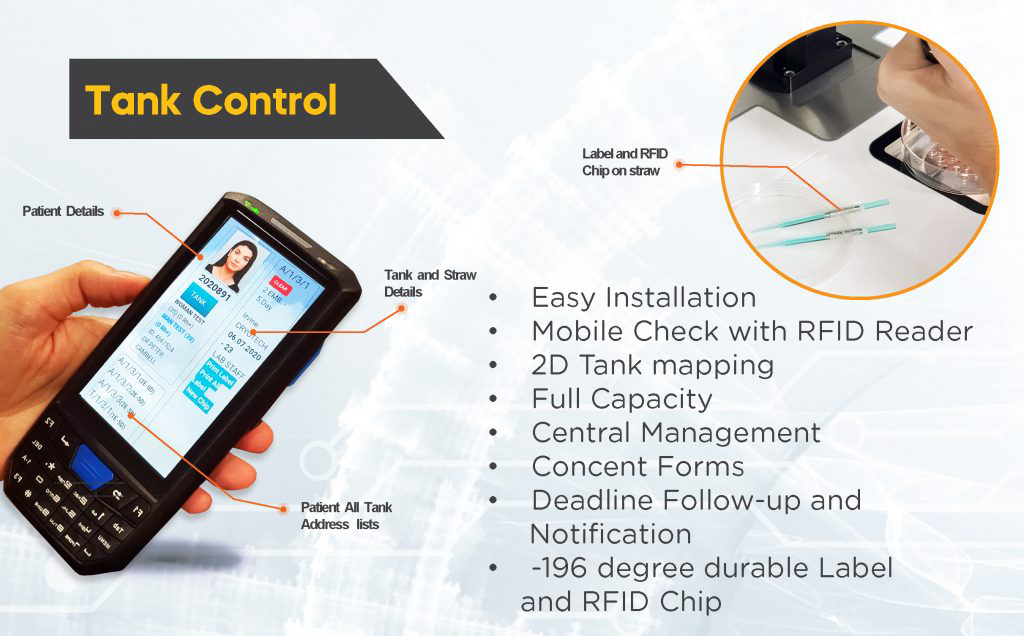 2D schema – mapping that can be specially designed for tanks of all models and structures.
The Ability to instantly track the capacity of Tank-Canister-Canes. Thanks to this feature, it is possible to plan where the sample is to be placed without checking the inside of the tank
Forms and report screens where freezing and thawing procedures can be tracked.
The ability to report all procedures based on date-time, personnel and patient.
The ability to color Straws and Canes thanks to the coloring function.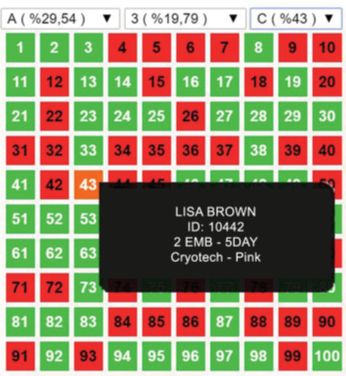 Easy to Apply
It can be activated without requiring extra hardware. It does not require a separate server or hardware. Our secure cloud servers can be used, or local installation can be made on the servers of the clinic.
Central Management
Unlimited recognition (connection) and tracking are possible regardless of the number of your tanks.
Labeling
No more manual writing. Labels can be automatically printed for straws or vials after tank address planning. Information on the labels can be changed based on your request. Labels are resistant to liquid nitrogen (-196° degrees). There are labels that are suitable for straw-vials of all known brands and types.

RFID Chip
RFID chips can be applied to straws or vials where samples are preserved, and total security can be attained this way. Our RFID chips are custom production and resistant to liquid nitrogen (-196° degrees) like our other cryo labels. The most important benefit of RFID is that it helps you control the procedures and ensures that the relevant tank address is automatically unloaded from the tank in thaw procedures.
Reminder System
If the client wants to track the preservation time of the sample, the system can report it (for example, via e-mail) to the owner of the sample specified number of days ago by taking the ending date of the cryo preservation contract into consideration.
Please CLICK HERE for the Tank Controls promotion brochure.