As an addition to TupbebeX – IVF Clinic ART Management System Software which was launched by DEGODE Technology Services Ltd. on 2011 and has been used by many prominent IVF clinics, DEGODE launched IVFID Witness System
IVF Witness puts an end to the fearful questions of IVF treatment like " any mixed of sperm, egg or embryo to be mixed?, any chance of IVF baby to me mixed?, is having a IVF baby secure?, what if my baby also get mixed? ".
What is IVF e-Witness ? IVF security system for IVF treatment centers. An electronic system keeps the the verification and matching data wirelessly on every step of the treatment ( Sperm Test, Oocyte Collection, Oocyte Tracking, ICSI, Embryo Transfer Process, Embryo and Sperm Freezing Process, Donation details, Surrogate Details ) and matching of sperm and egg samples of patient who is having IVF treatment without any error using wireless chips.
While IVF treatments widespread all around the world, some bad examples about mixing of egg and sperm, resulted irreparable. To prevent this kind of a vulnerability in IVF treatment, IVFID Witness System ensures auto control mechanism and the safety of patient and IVF treatment centers all along the treatment process.
The system, the software and the hardware is developed by our company. System has got flexibility acording to the requests and work flows of IVF clinics.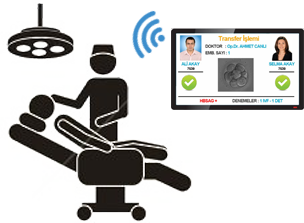 The system works with wireless electronic radio waves called RFID. At the beginning of treatment, wireless disposable chips that will be used all along the treatment and Patient Card given to the patient is being matched. All processes went trough a wireless virification both in laboratory and operation room. At the same time, every disposable material has got a patient's spouse name and patient number written on labels.
Processes are only done by authorized personnels. During the processes, patient gathers information regarding processes and their identity details on the LCD screen in operation room. Patient intensifies the security with the information on LCD screen. Personnel in laboratory can enter the data of patient to the system using touch screen panels. Every process like, personnel, date and time, type of process etc. and every action taken, is being kept under record on server computer.
A perfect security system to prevent possible conflictions that may happen in IVF clinic laboratories operating with classical method. Beside that, it ensures personnels in laboratory to fit in the system's work flow. Work flow under the control of system is being estublished, not on personnel's initiative.
"Let your patients live this unique experience. Stay safe, both you and your patients."
IVFID Witness System
IVFID Witness System
IVFID Witness System
IVFID Witness System
IVFID Witness System
IVFID Witness System
IVFID Witness System
IVFID Witness System
IVFID Witness System
IVFID Witness System
Used Cryotech on chip
Used Cryotech label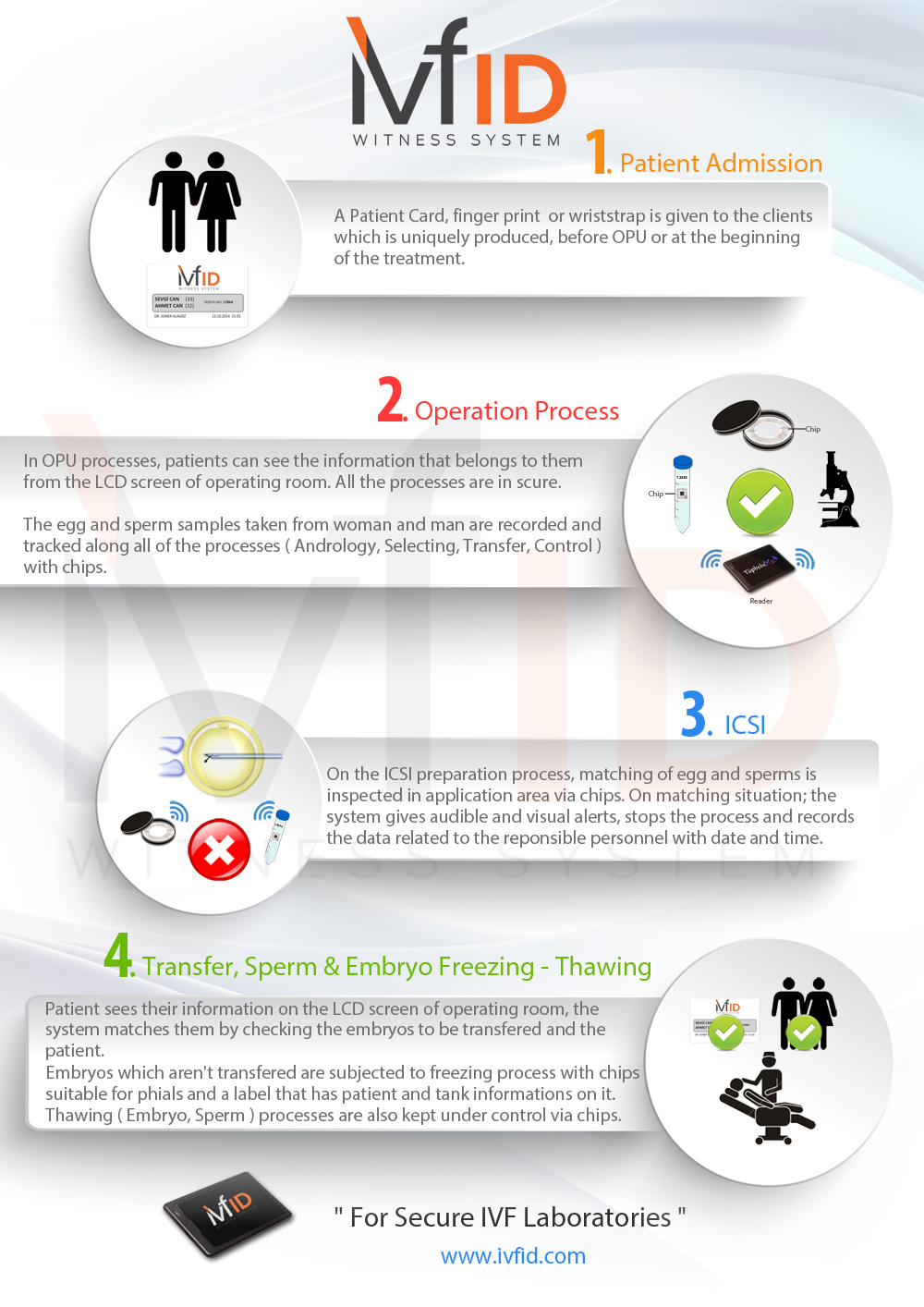 HOW TO WORK IVF ID

Please for IVFID Witness System brochure download.
Please for IVFID Witness System and Tank Control Presentation ( power point) download.